And the lucky winner...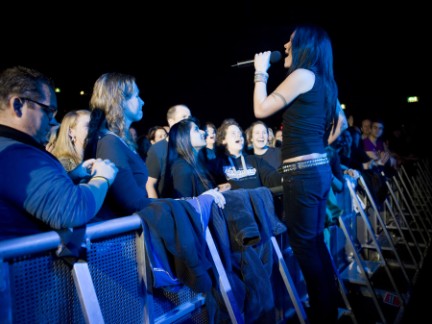 On the 21th of November 2010 Beth Hart gave a great performance for over 2,000 enthusiastic people in 013 located in Tilburg, The Netherlands. For one person this evening was extremely special, namely for Sylvia Engels. She was the lucky winner of the unique auction that was set up by ArtesanosByCynthia in collaboration with Beth Hart.

The purpose of this auction was to support the Cramm Foundation, an organization that provides microcredit to people with disabilities in developing countries. Dutch artist Cynthia Vermaesen has designed and made by hand, an exclusive silver necklace based on the logo of Beth Hart. This necklace was auctioned in collaboration with Beth Hart and the highest bid was made by Sylvia Engels. She not only became the proud owner of this unique necklace, she also received two concert tickets and a meet & greet with Beth Hart.

The proceeds of this auction are no less than 1005,- euro, which is a wonderful result and a lot of people can be helped with this amount of money. Due to this auction two additional generous donations have been received from abroad, which brings the total amount to the fabulous sum of 1465,- euro.

This makes not only Sylvia a lucky winner, but also the future clients of the Cramm Foundation. As far as ArtesanosByCynthia is concerned, this auction turned out more than succesful!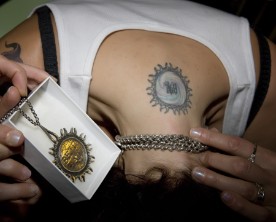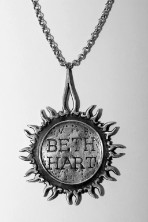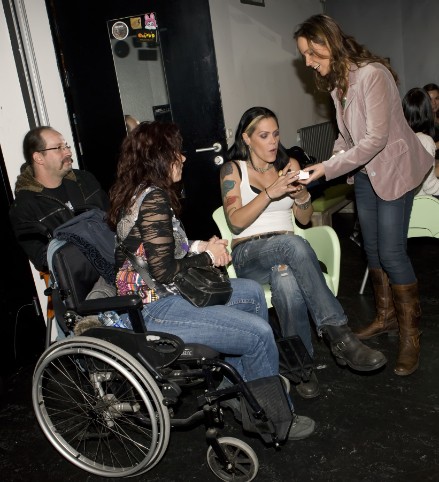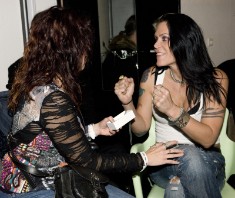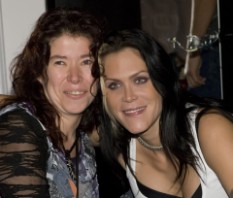 Personal respons from Sylvia:
"For me it was a super evening, I could not have wished for a better one. It was a great experience, we also have supported a very good cause. Especially from my own perspective since I am a disabled person myself I know how hard that can be. We are pleased that we can support this foundation, everyone is a winner. A beautiful necklace has been made and I am really very happy with it. And that this was given by Beth Hart personally was very special to me, what a sweet and special woman she is. She puts her heart and soul into everything and I will never forget this. I would like to thank everyone who made this special day happen, many greetings: Sylvia Engels."
Finally I would like to say:
I am very grateful to everyone who has contributed to the success of this auction, especially Beth Hart. It was a privilege that she wanted to cooperate with me. And I feel blessed because of the outcome. The proceeds are more than I could have hoped for! Also I am glad that all parties involved liked the necklace and that a very beautiful person ended up with it. It felt good to receive so many compliments, not only about this necklace, but also about the one I was wearing myself. It was a beautiful experience and I would like to think that we all just made a little difference. With just a little bit of afford, anybody can make a change… Sylvia, you are totally right: "Everyone is a winner."
Thanks,
Cynthia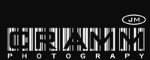 *For more information about this auction, Beth Hart and the Cramm Foundation etc. you can scroll down.
***This auction is closed***
ArtesanosByCynthia and Beth Hart support the Cramm foundation
Would you like to win this unique Beth Hart necklace,
including 2 concert tickets and a meet & greet?
Place your bid now!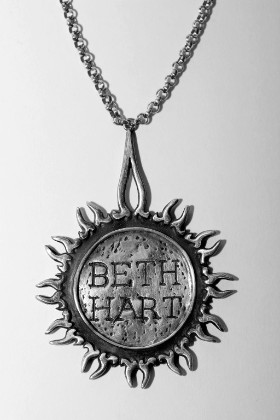 The necklace will go to the highest bidder. The auction proceeds will be donated to the Cramm foundation. The winner will be announced as an official sponsor of the Cramm foundation and also will receive 2 concert tickets* including a meet & greet with Beth Hart. A photo report will be made and placed on the websites of Beth Hart, the Cramm foundation and ArtesanosByCynthia. During this meet & greet, Beth Hart will be handing over the necklace to the winner in person accompanied by the Cramm foundation and ArtesanosByCynthia.
This unique, pure silver necklace is handmade and designed by the Dutch artist Cynthia Vermaesen. The design is based on the logo of Beth Hart. The pendant is 8 cm high, 6 cm wide and 3 mm thick. The pendant is attached to a jasseron necklace of 42 cm long and 3 mm thick. The necklace has been oxidized and partly polished to create an authentic look.
The minimum selling price of this piece would be €360,- Of course we wish to obtain at least this amount of money and hopefully even to exceed. Still, we have decided to open the bidding at €295,-
Are you the ultimate Beth Hart fan? Do you want to improve the situation of people with disabilities in developing countries? Yes?! Then help us support the Cramm foundation and place your bid now! Just send an E-mail to: info@artesanosbycynthia.com Include your name, address, telephone number and E-mail address along with your bid. The bid will be announced on this webpage, including your name. All other information will remain confidential. Also through this webpage you can keep track of the bidding and see if your bid is still the highest. For the bidding history, see at the bottom of this page.
After a bid has been placed on this website, it becomes an official bid. Therefore the bid cannot be withdrawn. This concerns all bids placed, untill the winner has been announched.
Closing date auction: October 24th at 00.00 AM Central European Time.
The highest bidder will receive an E-mail on Monday October 25th 10.00 AM at the latest, with the confirmation that he/she is the Lucky winner. The money needs to be deposited before Friday October 29th on the bank account of the Cramm Foundation. More information will be added in the confirming E-mail.
*It will concern a concert of the upcoming Dutch tour in November 2010, in consultation with all parties involved the exact concert date will be determined (for tourlist check: http://www.bethhart.com/present_en.php). Beth Hart has an amendatory veto in this matter.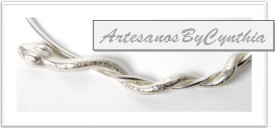 The lucky winner of this auction is Sylvia Engels
Congratulations!
The proceeds of this auction: 1005,- euro
The total amount has been donated to the Cramm Foundation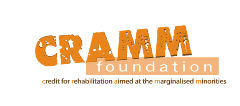 CRAMM is short for Credit for Rehabilitation Aimed at the Marganilized Minorities. The Cramm foundation is founded in 2008 and a relative small but efficient Dutch organization. Time, efforts and expertise that board members and ambassadors put into this organization is at a 100% voluntary basis.
The Cramm foundation believes that it is important to improve the situation of marginalized minorities (eg people with disabilities and women) in developing countries and support them in becoming self-reliant and independent. Only through independence and self-reliance instead of being donor dependent poverty can be reduced. True empowerment is established through providing support and assistance customized to their strengths, capabilities, dreams and aspirations.
Microcredit* is a known socioeconomic intervention for the poor; however, people with disabilities are excluded from microcredit schemes. This distinguishes the Cramm foundations from other microcredit organizations. We believe that people with disabilities should not be excluded and deserve a change to start their own business. In many developing countries women are also often marginalized and unemployed, therefore we additionally provide microcredit to women.
The Cramm foundation is totally dependent on funds and donations of partners, organizations and individuals. Therefore, any financial contribution is more than welcome. With your financial help we will be able to continue our work and support the marginalized minorities in developing countries.
*Microcredit are small loans for self-employed entrepreneurs who cannot access credit at traditional banks. Microcredit gives marginalized minorities the change to break out of their situation of consistent poverty. Furthermore, it enhances self-esteem and empowerment. Being financially independent and self-reliant creates feelings of accomplishment and being self-worthy, which enhances quality of life. In addition, people with disabilities are stigmatized in the community, when the community sees that they are successful in running their own business it helps to reduce stigma.
For more information about the Cramm foundation, visit their website at: www.crammfoundation.com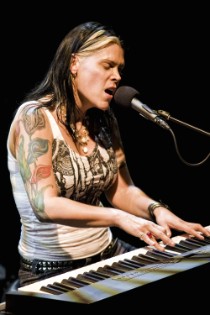 Beth Hart
Beth Hart has been fascinated with music ever since she was a small child. As a 4-year-old, she started to play piano. At first, she concentrated on classical works by Bach and Beethoven, but as she grew older, she also began to play more mainstream pieces by artists such as Etta James, Otis Redding and even Led Zeppelin.
L.A.-born and raised Beth Hart is an accomplished singer/songwriter with one of the most amazing voices on the airwaves today. Her musical influences include rock, blues and gospel. Her vocal style has been described as raw and passionate. At her most raspy, she gives some lines that will have hairs rising and spines tingling.
Best known for her hit singles L.A. Song, Delicious Surprise and Leave the light on, Beth is currently performing for sold out shows and festivals throughout Europe.
She will be releasing her new album 'MyCalifornia' in Europe on october 4th 2010.
For more information about Beth Hart, visit her website: www.bethhart.com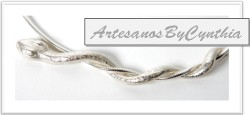 Artesanos is a Mexican word meaning 'handmade'. As the name 'ArtesanosByCynthia' already presumes, here you can find handmade products crafted by Cynthia. Handcrafting is something she did from a very early age and over the years it became a passion that grew bigger and bigger. At this point in life it is no longer time to consider this a hobby.
Cynthia also shares a great interest for other cultures, in particular the African with its diversity of tribes. Furthermore, the Native American culture, Maya, Inca and Aztec are also of special interest to her. This is clearly shown in her workpieces. Inspiration and knowledge are gained during journeys across countries such as Canada, Alaska and South Africa. Not only by visiting museums, but also through observing local people performing their skills. Either watching local artists carving a totempole or sculpturing together with Xhosa people in South Africa, all experience is embraced.
The result of this all, can be found here on the website of ArtesanosByCynthia. Such as: exclusive handmade silver jewellery, masks and sculptures of clay or wood and Indian paintings on wood or leather. Some workpieces have an underlying meaning, which are summarized.
Aside from workpieces shown on the website, it is also possible to have something designed and manufactured according to your personal wishes, such as a silver pendant. Just contact Cynthia by sending an E-mail to: info@artesanosbycynthia.com and write down your wishes. She will inform you as soon as possible about the possibilities, prize range and terms of delivery.
NOTE:
This website is still under construction, most pages are currently only available in Dutch. Please except my apologies and do not let this withhold you from checking out the products. Please just let the pictures speak for themselves. Thank you kindly for your interest and effort.
Sincerly,
Cynthia
Listen to Beth Hart performing 'Setting me free':
Bidding history:
16-09-2010 €830,- Jolanda van Drunen
04-09-2010 €825,- Sylvia Engels
20-07-2010 €800,- Kjersti Gjerde
14-07-2010 €775,- Jolanda van Drunen
13-07-2010 €750,- Kjersti Gjerde
12-07-2010 €725,- Jolanda van Drunen
09-07-2010 €700,- Kjersti Gjerde
08-07-2010 €575,- Jolanda van Drunen
08-07-2010 €550,- Kjertsi Gjerde
08-07-2010 €525,- Jolanda van Drunen
07-07-2010 €500,- Kjertsi Gjerde
05-07-2010 €360,- Jolanda van Drunen
23-06-2010 €305,- Evelien van Hout
22-06-2010 €295,- OPENING BID