'Tiny Tot' birth collection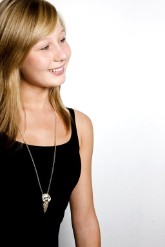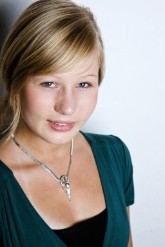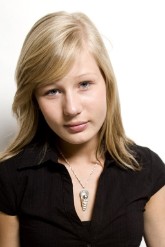 Would you like to surprise the mother of your child, or your own mother with a symbolic gift?
Maybe the 'Tiny Tot' birth collection of ArtesanosByCynthia can help you out...
Baby in blanket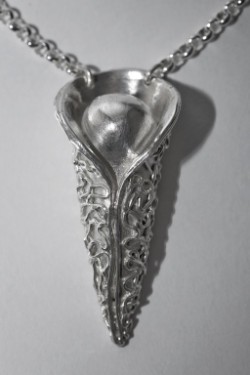 Pendant attached to jasseron necklace.
Pendant elegantly decorated with silver thread.
Chain length: 80 cm.
Size pendant: 5,2 cm/2,5 cm.
Approx weight: 42 gram.
Papooses
In Native American culture, it was common to tie the baby during the first year of life on to a cradle board. A cradle board is a baby carrier used to keep babies secure and comfortable and at the same time allowing the mothers freedom to work and travel. Bound and wrapped on a cradleboard, a baby can feel safe and secure. Soft materials such as lichens, moss and shredded bark were used for cushioning and diapers. Cradleboards were either cut from flat pieces of wood or woven from flexible twigs like willow and hazel, and cushioned with soft, absorbant materials. The design of most cradleboards is a flat surface with the child wrapped tightly to it. It is usually only able to move its head.A cradleboard went by many names, but in American English it is known as a papoose. The word came originally from the word papoos used by the Narragansett tribe, meanig 'child'.
Papoose #1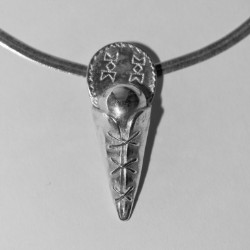 With wide necklace, flat design.
Chain lenght: 46 cm.
Size pendant: 4,7 cm/1,2 cm.
Approx weight: 14 gram.
Papoose #2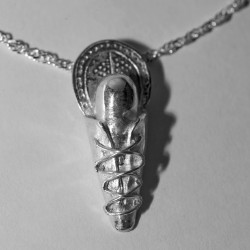 With graceful singapore necklace.
Chain length: 49 cm.
Size pendant: 5 cm/2 cm.
Approx weight: 14 gram.